4 Days of Kidepo Valley National Park
Our 4 Days Kidepo wildlife safari tour package is ideal for those who want to visit somewhere different. Kidepo valley national park is found in the remote rugged and semi-arid parts of Karamoja. The park covers an area of about 1,440 km2 and has been described as one of the top three parks in Africa by CNN Travel.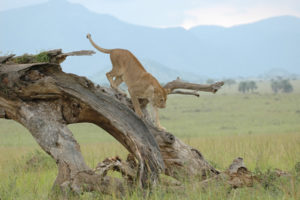 This hidden gem is Uganda's true answer to Kenya and Tanzania's Serengeti.  While the park is not as well marketed or visited as other travel destinations in Uganda like Murchison Falls or Queen Elizabeth national parks, the terrain, unspoiled savannah grassland, mountains and wild animals remind you of how the African plains once used to be. It has variety and abundance of wildlife with a landscape that is perfect for a true African wildlife safari. Visitors will get to see elephants, cheetahs, ostriches, hippopotamus, leopard, baboons, giraffe, wild dogs, oryx, buffalo, lions and several antelope species including bush babies. Bird lovers have over 475 species to see. Because of its remote location, the park is less crowded and visitors are given special and personal treats.
Detailed Itinerary
Day One– Drive from Entebbe/Kampala to Kidepo national park
Today we drive from Entebbe to the wildlands of Kidepo for yet another encounter with culture, wildlife and un explored wildlands of Karamajo. The drive is about 7 hours through Gulu, Kitugumu and Kabong. Time allowing, conduct are short evening game drive tp the lodge or near the lodge depending on where you will be staying for the night.
 Accommodation inside the park or at the edge of park (Luxury, Mid-range and budget are available)
Day Two– Full day discovering the wildlands of Kidepo
An early breakfast will be served and head out to traverse the vast plains of Kidepo national park. The park is blessed with abundant wildlife and famous for its masses of buffalo herds that range in hundreds to thousands. Apart from Pian Upe wildlife reserve, cheetahs have also been sighted in Kidepo though on rare occasions. We will dedicate this day for game drives both morning and evening discovering several tracks in search of big game, enjoying the serine beauty of Kidepo and her blue rugged blue mountains that make it perfect for photographic moments, and capturing the memories. Dinner and overnight at the lodge. Accommodation inside the park or at the edge of park (Luxury, Mid-range and budget are available)
Day Three– Extra day exploring Kidepo
Depending on you experience the previous day, you will agree with your guide what time to have your breakfast, then head for a game drive or visit the local community for a cultural insight of the Karamajong people. We recommend you do a morning game drive and visit the local community mid-morning before the heat gets hot. In the afternoon, you rest or enjoy swimming at your cosy lodge and later in evening conduct another game drive. Kidepo is prime game viewing parks with animals like the African elephants, Zebras, Giraffes, Elands, Buffaloes, Lions, Leopards, Hyenas and several bird species including, Verreauxs Eagle, Pygmy falcon, Kori bastard, common ostrich, Karamoja Apalis among others. Accommodation inside the park or at the edge of park (Luxury, Mid-range and budget are available)
Day Four–Depart from Kidepo to Entebbe.
After breakfast, we drive through the local communities of Karamoja to Moroto town through the rugged remote ears of the region. This stretch is very fruitful for bird lovers and several species can only be found here watch out for buffalo weavers, Barbets among others. Late lunch will be served at Karatunga Camp and in evening, we visit the local community in the hills. Dinner and overnight at Camp. Accommodation: Karatunga Safari camp (there is an option of camping in the mountains with local tribe)
Included on this costs
Accommodation as per the itinerary
Entrance fees and tax involved
4×4 Safari customized vehicle with an English speaking guide
Drinking water
Activities mentioned in the itinerary
Excluded
Optional activities
Tips and gratuity
International tickets
Visa entry fees
Anything not mentioned in this itinerary
Kidepo Valley National Park is the remotest park in Uganda tucked in the northeastern corner along the border with Kenya and South Sudan within the semi-arid belt of the tropics. It is one of the most naturally authentic and least disturbed wildernesses in Africa, with a scenery that cannot be found anywhere else in East Africa.The park covers an area of 1,442 square kilometers and has an altitude ranging between 914m and 2,750m. Gazetted in 1962, the park was named "Best National Park in Africa for spectacular landscapes and great buffalo herds" by CNN Travel in 2013 and it is populated with plenty of wildife, a lot of which can not be found in other parks of Uganda. Such wildlife includes animals like Ostriches, Pygmy Crocodiles, Cheetahs and other rare cats. The park's 77 mammals and an estimated 475 species of birdlife altogether make it both an ideal and a perfect destination on your African safari.
Kidepo valley national park contains two rivers; narus and kidepo all of which disappear in the dry season, leaving behind just a small pools of water and wetlands for the plethora of wildlife found within the park. Stroll along the Kidepo River in the dry season and enjoy its 100m bed of white sand between banks covered by borassus palm trees. On this Kidepo Valley National park Safari, you will have community experiences of certain tribes whose traditional beliefs and way of life have been best preserved. Such communities include the Karamojong and the Ik, whose survival is threatened. Unique to this park are the stunning landscapes spanning throughout the entire park; flat valleys enclosed within a continuous ridge of hills and mountain ranges; a clear depiction of an African setting thus "The True African
Wilderness". You will also have game drives where you will watch animals like Rothschild's giraffes, Burchella's Zebras, elands, hartebeests, lions, hyenas, cheetahs among others. The park excitingly presents a record of having the highest number of African buffalos. 
We give you a range of accommodations to choose from, ranging from budget, moderate to luxury.